Here's a niche for you: rock memoir audiobooks. If they're read by the author, I'm in! Musicians may be performers but those abilities do not guarantee they'll be great narrators of their own stories. The good ones—Elvis Costello for example, who adds vocal animation and phrasings like any professional reader—bring extra insights and drama to their tales. While someone like Kim Gordon, bassist for Sonic Youth, her affectless tones give off a sense of remoteness. Even when she's revealing something personal, she still feels like a cipher. Very much like her too-cool-for-school performances on stage.
If audiobooks and rock 'n' roll stories are your thing, you might want to check these out:
Under the Big Black Sun: A Personal History of L.A. Punk by John Doe & Tom DeSavia
X bassist John Doe and other punk notables, like Exene Cervenka, Henry Rollins, give the down and dirty about the origins and evolution of the Los Angeles punk scene. The essays are also read by their authors. This one brought me back to memories of these scenesters at some of their insane and historic shows.
Unfaithful Music & Disappearing Ink by Elvis Costello
Costello's memoir is as wordsmithy as his lyrics. His story dives deeply into his childhood, his father's background as a working bandleader and that influence on his musical career. I warn you it's lengthy and a fair amount of time is spent deconstructing his music, but if you know his records, especially his new wave ones, Costello offers up some funny anecdotes.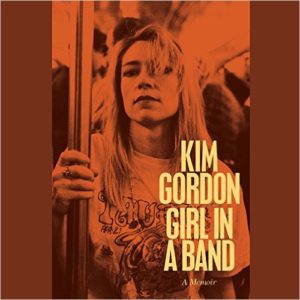 Girl in a Band: A Memoir by Kim Gordon
Kim Gordon has a fascinating story to tell. She chronicles her journey from being a Westwood Cali girl to co-founding Sonic Youth with Thurston Moore and to the pair of them becoming New York-noise rock royalty. She paints a vivid picture of the scene and her creative process.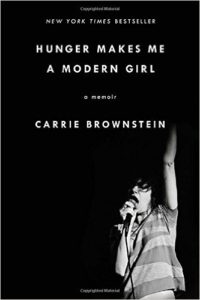 Hunger Makes Me a Modern Girl: A Memoir by Carrie Brownstein
I admit, I was never a big fan of Sleater-Kinney, but I'm a huge fan of Carrie Brownstein. Her hilarious and audacious turns in Portlandia inspired me to listen to her candid memoir. Brownstein adds amusing timing and pathos to her journey of self-discovery through music.
At the end of 2016, when I heard that Johnny Marr, legendary guitar hero of The Smiths, had a new autobiography, Set the Boy Free, I nearly plotzed! The audiobook is on my device; I can't get to it yet for I'm immersed in Nathan Hill's The Nix, all 22 hours of it! Reports on both to come.
Happy listening!