How does one even begin to describe the artistry of Takashi Murakami? Masterful, ebullient, scintillating, sarcastic, historical, technical, profound … words like these don't seem to do him justice. Lucky for us several of his vast canvases are now on view at the new Broad Museum in downtown Los Angeles, and if you haven't had the pleasure of absorbing Murakami's world, go now. And make sure to give yourself plenty of time. His paintings are so dense with imagery relating to spirituality, pop and drug culture, and social commentary, you could spend five minutes looking at a tiny corner!
I dare you not be mesmerized by his 82-foot long,  In the Land of the Dead, Stepping on the Tail of a Rainbow. It's a psychedelic head trip involving Hokusai-like wave patterns, earthquakes, historical figures, and comical crazed animals.
One of my faves is the Hustle'n'Punch By Kaikai And Kiki. Don't be fooled by its riot of pinky tones and smiley flower faces. Look closer and you'll see mouths open, revealing gnashing fangs. This is quintessential Murakami social critique. Beneath the bright and sunny lurks the grotesque.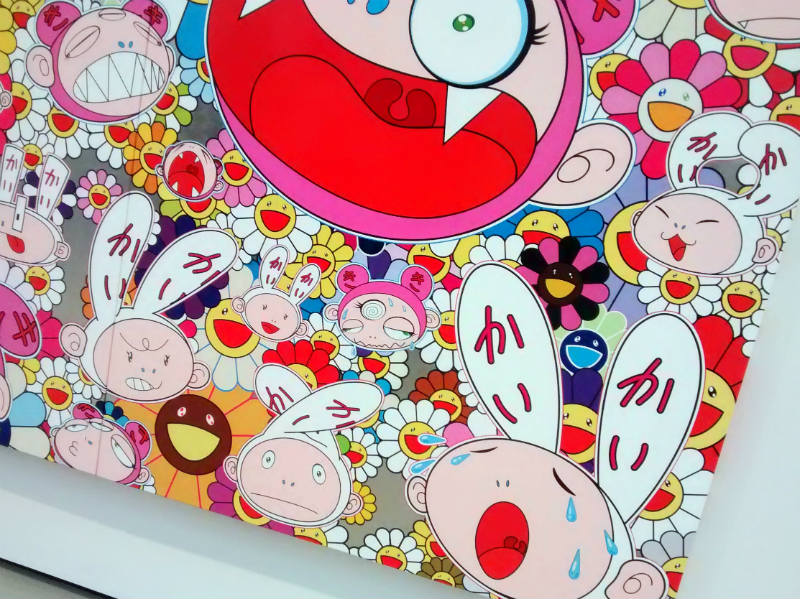 Lastly, I leave you with Of Chinese Lions, Peonies, Skulls, And Fountains. How can you resist cuddly puddles of cats atop a cascade of skulls? I know I can't.