Jessica McClintock, dress designer for 40 years, has announced her retirement. She was acclaimed for attiring prom-goers in frothy confections of tulle, satin, and velvet. She made teenage girls look sweet and age appropriate rather than like strippers in training.
The San Francisco offices in Potrero Hill closed its doors November 2013. The 83-year-old McClintock stated that she was retiring not because of her age, but the market had changed. While the company still brought in $100 million in sales, it could no longer compete with the Topshops of the world. Girls were forgoing the princess look and instead opting for more trendy, high-fashion styles.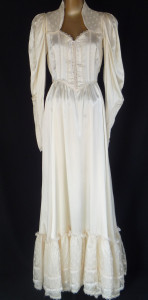 I felt a wave of nostalgia upon hearing this news. When I was in high school, I had a cherished Gunne Sax dress. This was the label of her semi-formal line. It was a cream-colored maxi-dress with a lace-up front. Notice I said "maxi." That's what we called long dresses in the late 70s. It was the ultimate in hippie chic. I adored this dress, and wore it to my violin recitals and orchestra concerts.
When I lived in San Francisco in the late 80s and 90s I cultivated a vintage, punky style mixed with a heavy dose of irony. I scoured thrift stores and yard sales for clothing I could deconstruct and repurpose. I often dropped by the Jessica McClintock outlet store, keeping an eye out for sample sales. One time I scored a red, bubble-skirted dress with spaghetti straps. I wore it with fishnet stockings, black 50s pumps, and topped it with a leather jacket. The outfit was a big hit in the clubs; I looked like a Filipino Cyndi Lauper.
Farewell, Jessica McClintock, your dresses will be missed … at the prom and at the club.