In my effort to lead a minimalist lifestyle, I've been falling into a cyberhole–specifically watching lots of YouTube videos. From decluttering, tossing, photo organizing, drawer porn, to creating your own capsule clothing collection (is it really possible to only wear 30 items, including accessories, per season?!), these videos offer the promise of leading a serene life in a totally white kitchen with nothing on the counters except a bowl of limes, for that pop of color, and a sparse closet of black and white clothing on blonde wood hangers. At some point, you have to stop watching, get brutal and dive in.
It's really not difficult to de-junk closets and a garage if you embrace the Marie Kondo of it all. That old lawn mower sparks more despair than joy, especially since we removed our lawn and created a xeriscape years ago. Until I got to the shoeboxes of letters and postcards I'd received over the decades. Before email and texting, we wrote letters. Remember that time? Handwritten letters filled with stories, anecdotes, and humor. And the emotion is incredibly poignant, honest, and so drama filled. As I started sorting through these gems from my past, I laughed out loud, got teary, and marveled at the effort placed in these missives.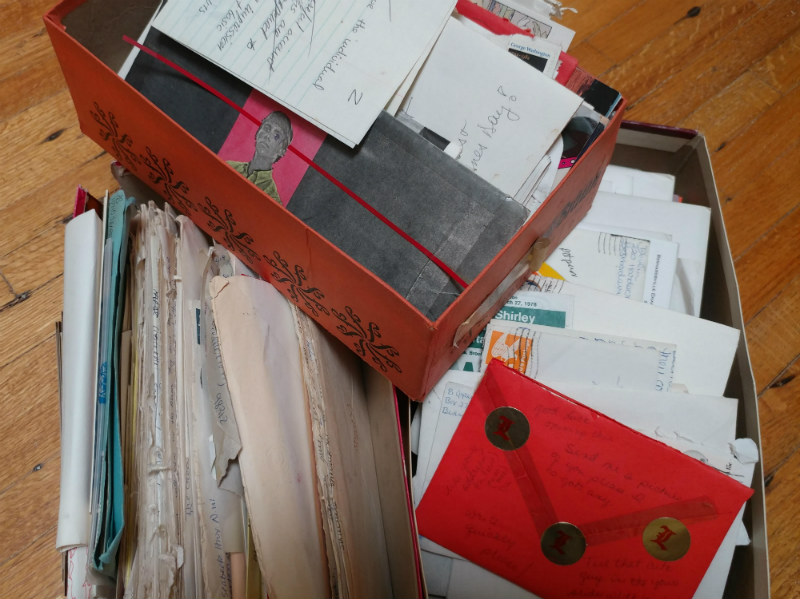 Before I tucked into the organizing task, I had a plan: to keep the best letters and toss the rest. But once I started … well, could I really throw away the love letters from long-gone boyfriends and long-distance romances? These scribbled out pronouncements of love and detailed descriptions of everyday tedium on lined notebook paper? Long-distance phone calls were really expensive back then, so we had to keep our loved ones and friends filled in on the minutiae to keep the "relating" part of the relationship going.
I did manage to toss some letters from high school and travel pen pals; all filled with angst about homework, restrictive parents, and college applications. I felt no nostalgia for that time in my life however, I kept a few from the summer after 8th grade. I was 13 going on 14, puberty hormones were raging and no surprise, boys were the hot topic. My best friend at the time wrote me while I was away at music camp. She talked about going to the movies at the multiplex with two boys she and another friend liked. They saw Jaws for $2!!, then attempted to sneak into these horror "classics,"  Bugs and Sssssss, the same evening. Who sees double features these days let along three movies in one evening?!
Her description of the evening was so vivid and detailed down to the seating arrangements. Who sat next to whom! This stuff mattered to teenage girls!
Not only did this letter catapult me back to that summer but it also reminded me that letters and cards are records of our lives. While some letters were cringe-worthy and painful to read (particularly those from college friends who never got off the party train and who are now deceased), most were beautiful expressions of friendship, shared experiences, and love … all sparking joy.