San Francisco is purported to have over 7,000 restaurants, making it the highest number per capita. This means you're either in foodie heaven or foodie hell. There's a sublime macaron, artisanal ice creamery or roasted, cheesy, buttery something or other lurking around every corner to tempt, taunt and turn your resolve to eat healthfully into mush.
For Love Match's Jessica Durrell, restaurants are an essential part of her matchmaking business. Putting her clients in the proper environment is most conducive to romantic success. A restaurant's lighting, décor and especially the food all help to heighten the palate and the senses—thus setting the mood for love.
Here are a few foodie destinations that inspired Love Match's romantic hot spots and references.
"Mars … was just the sort of person to book restaurants, limo pick-ups, and stylist appointments, so clients could focus on the task at hand—falling effortlessly in love."
"… Penny grabbed her arm and tugged her inside the Mariposa Grill—a classic San Francisco restaurant of snotty career-waiters and artery-clogging steaks and chops."
"No, she gets this." Hayden tossed Jessica a bag of kettle corn. "I know how you like your salty snacks."
She plunged her hand into the bag. "It's still warm!"
"Just got it from the Farmers Market at the Ferry Building."
"Maybe we should take this as a sign to rethink our lives and try doing something else," Penny offered.
"Like what?"
"Run a goat farm and make cheese."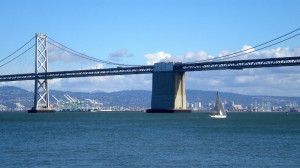 "The Bridge was an upscale restaurant on the Embarcadero. It boasted a Michelin-starred chef and a striking view of the bay."